(Photo courtesy Ohio State Athletic Department. Tournament information courtesy LPGA, PGA Lationamérica and Ohio State Athletic Dept.)
We have a few golf related items this morning. Let's head right to the tee box…
Ohio State
Here's some good news: OSUWG coach Therese Hession has been named co-coach, along with Oklahoma's Ryan Hybl to coach the United States in the 2018 Arnold Palmer Cup.
The event, which will be held at Evian Resort Golf Club July 6-8, is a Ryder Cup-style competition that will be the first played under the expanded format to include men's and women's collegiate golfers.
The Evian Resort Club is in southeastern France in Évian-les-Bains, overlooking Lake Geneva. Congratulations Therese!
Additionally, Caleb Ramirez has been named Big Ten Golfer of the Week based on his fine play at last week's Carmel Cup. His score of 213 (-3) was the best finish of his young career and his first POTW award. Congratulations, Caleb. Keep hitting those fairway & greens.
LPGA
Rachel Rohanna was in Indianapolis, IN this week for the Indy Women in Tech Championship.  Unfortunately, Rachel won't be staying the weekend, at least to play.  Rachel shot a two round total of 145 (+1) but the cut line was -2.
In her opening round on Thursday, Rachel stood at +3 through 15 holes, but closing birdies on #16 and #18 brought her score down to 73 (+1). Not in too bad position for her.
Rachel just couldn't get any traction on Friday's second round and peppered her scorecard with, four bogeys and four birdies for an even par 72.
PGA Latinoamérica
Speaking of not getting any traction, Tee-K Kelly slipped during play on his 8th hole and suffered a lower leg injury, below. He was in San Luis Potosi, MEX for the week for the San Luis Championship. Tee-K met with additional misfortune, notably his two round score of 152 (+8) was well over the Mendoza line of +1.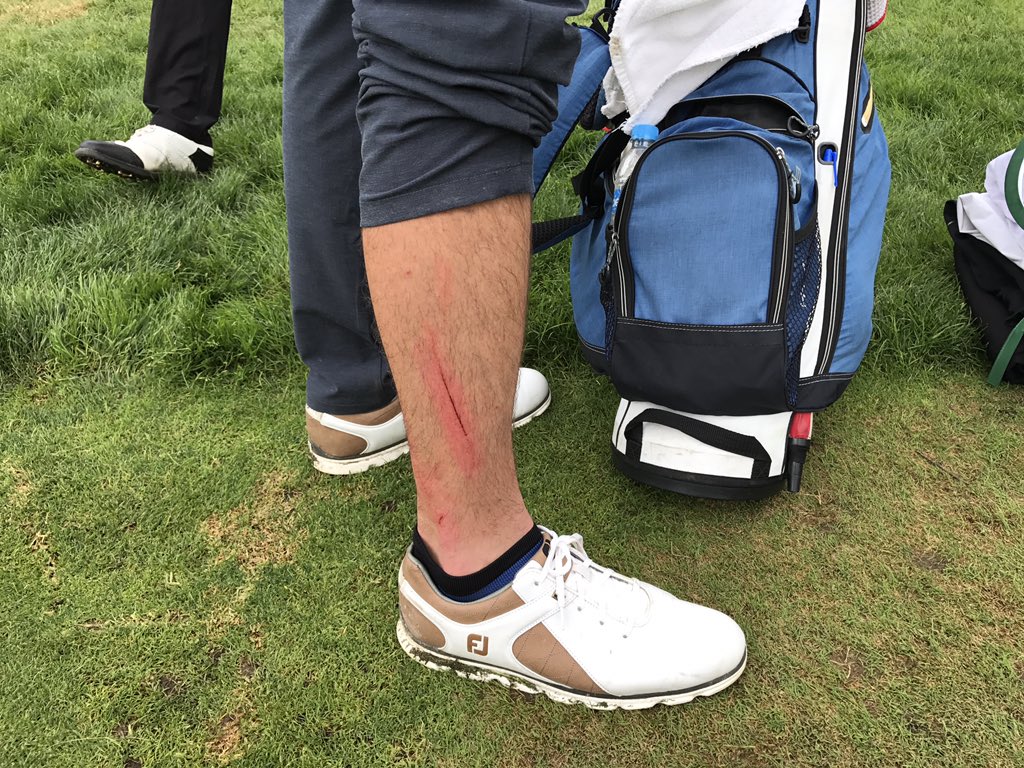 Tee-K had a horrible start to his tournament. He began his round with a double bogey and had another double bogey on the same hole where he was injured, above, to make the turn at +4. Not an enjoyable +2 hours for Tee-K. He rebounded with a closing nine of 33 (-3) to finish the day at 73 (+1)
His Friday round was absolutely brutal. He was +5 at the turn, then scored 3 consecutive bogeys on his back nine. He did gain some measure of satisfaction by birdieing the par-3 17th hole, site of Thursdays accident. He finished the day with a 79 (+7).
In the Order of Merit, Tee-K still holds 5th place. Two of his closest three pursuers made the cut, so we'll see how the rankings look next week.
Local Golf
Despite a short week and dicey weather, I did manage to get in a round this week. The game appears to have stabilized a bit with another good (38-42 80) round. All aspects of the game seem to be working, and although there are still some inconsistencies in the iron game, it is working.
I took some time to compare this year's scores to last year's at my "home" course. This year my score is about a half stroke higher and my handicap index is a bit more than a stroke higher. I think the difference is my iron play was consistently better last year.
Fortunately, I have a few more rounds this season to "groove" the iron swing. You'd think that playing golf for almost 45 years it would have been grooved by now. I guess not…
Up Next
The Ohio State women's golf team tees it up Sunday-Tuesday September 17-19 in Madison, WI at the East & West Match Play Challenge.
The Ohio State men's golf team tees it up Monday and Tuesday, September 18-19 in Toledo, OH at the Inverness Invitational.