(Image and background courtesy ohiostatebuckeyes.com)
Well, she done did it. Jaclyn Lee had a decision to make. Okay, probably more than one… After earning LPGA status for 2019, Jaclyn has decided to forego her final semester of golf (Spring 2019 schedule) in preparation for joining the LPGA Tour. Jaclyn will finish her degree this Spring, much to her credit.
Per Jaclyn's Instagram: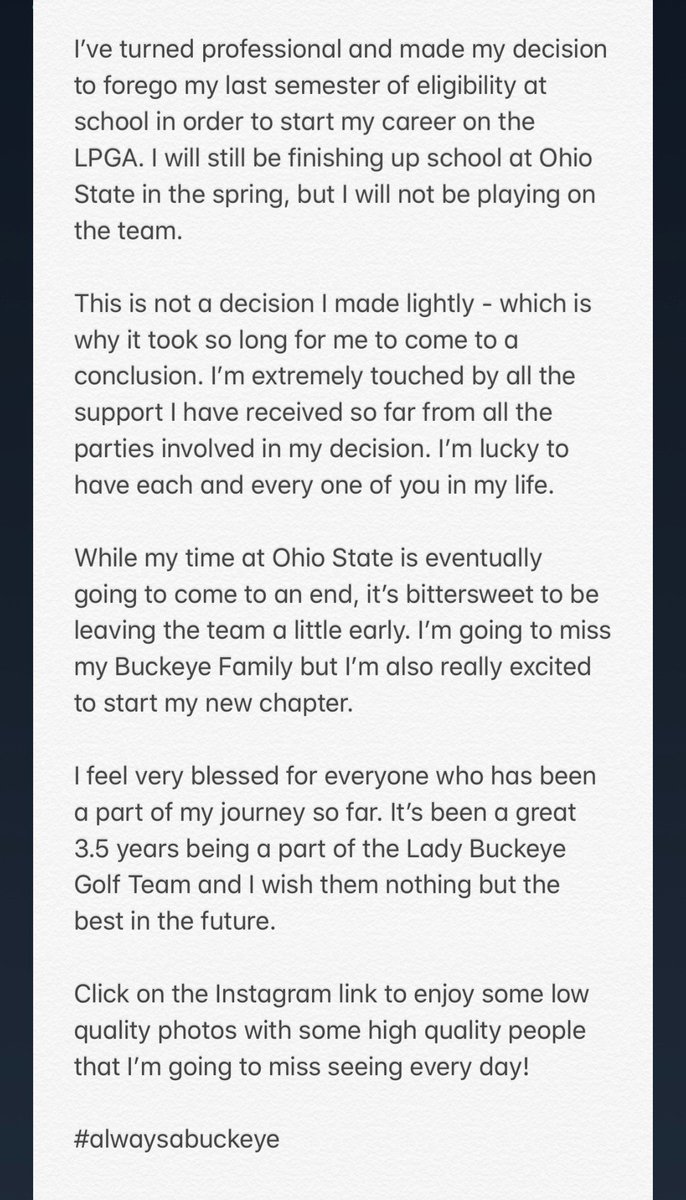 In terms of Ohio State women's golf, for the past two seasons, this has been Jaclyn's team. Last season, Jaclyn played in 12 events. She was the low Buckeye scored in 10 of them. She had three 1st place finishes and seven total Top-10 finishes. She led the team with a stroke average of 71.1 per round.  This season, Jaclyn played two events, finished 1st and 3rd in the field with a five round stroke average of 70.5.
What does this decision mean for Ohio State women's golf? Based on the Fall schedule, probably not too much. Jaclyn's last event as a Buckeye was in the Windy City Collegiate Challenge October 1-2. Since then, the coaches and players have been getting used to Life Without Jaclyn. It's been a bit of a struggle at times, but a person of Jaclyn's skills is difficult to replace. Now that Jaclyn made her decision, the team can forge ahead for the Spring Schedule.
What does this decision mean for Jaclyn? It's a pretty big deal, and as she states above, not one taken lightly. This is the next step in her life for which she's prepared at Golf Canada and at the Ohio State University.
Jaclyn, thank you and good luck.